GRIPPERS AND LIFTING SLINGS
Lifting slings are vacuum gripping devices that can be fit onto a hook of any lift equipment. Vacuum generator installed directly on a lifting sling is electrically powered to reduce vacuum production cost.
Lifting slings and grippers are mainly used for handling steel sheets to be cut, bent or marked e.g. to be placed onto laser cutters, plasma cutters or waterjets. They are also suitable to move glass and other flat elements. Grippers can be specially manufactured to move and rotate drums, car parts, reels, steel strips and many other loads.
Their main advantages are a multitude of loads that can be gripped, quick product gripping and releasing, improved operator safety, reduced costs (only 1 person is needed to transport a 1000 kg steel panel) and better load safety (no mechanical damage on the surface). Lifting slings and grippers can be supplied with hoists, rail cranes or overhead cranes, which provides the customer with a complete solution for load handling.
In brief:
– lifting capacity: up to 5000 kg
– low operating costs
– better protection for employees and products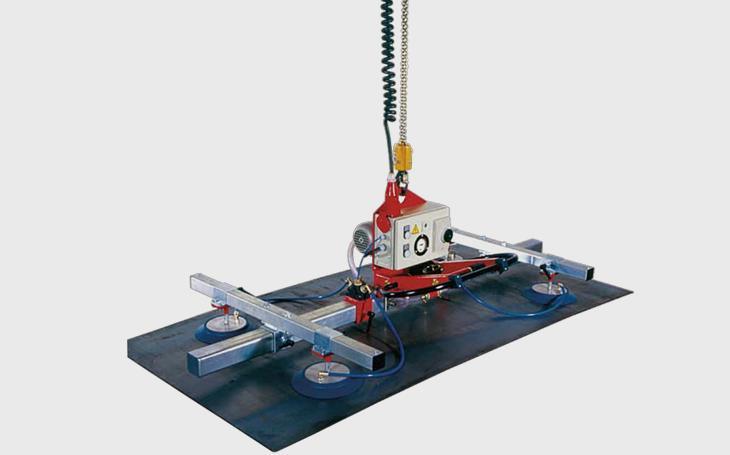 GRIPPERS AND LIFTING SLINGS GALLERY
GRIPPERS AND LIFTING SLINGS VIDEOS